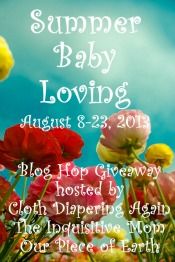 Welcome to the Summer Baby Loving Blog Hop Giveaway, hosted by Cloth Diapering Again, The Inquisitive Mom, and Our Piece of Earth, in celebration of babies and mamas! There are two grand prizes up for grabs, one open to US and Canada, and one open just to the US. In addition every blogger on the hop event will have their own prize (mom or baby friendly) to give away on their own blog worth at least $25. Mine features a cloth diaper…. want to know which one? Ever heard of the Fluff Fairy from Kelly's Closet? Sad you missed out on the big event in July? Can't wait until they're released for August? Guess what, you didn't have to, because I'm offering up that exact diaper in my giveaway!
The softbums echo diaper cover accepts several types of inserts. I know a lot of moms are expecting, and this diaper gets VERY small. Most any newborn should fit into this diaper with no problems. We're talking 5 lbs here! It goes up to 40 lbs, as well for a one-size fits all usage! It's easy to use, just snap in the insert and go! You can reuse the cover multiple times, you just need additional inserts. More inserts just like the one included are available here: stay dry insert. I love all the cute prints, but this one is gender neutral, so no matter what kind of baby you have, boy or girl, newborn or toddler, this one will work for you!
Enter my giveaway through the GT form below, and then 'hop' around to see what everyone else is giving away! Don't forget the grand prizes! Thanks for stopping by, we hope you come back soon!
Entry
-Form
Go

here

to enter to win a grand prize! See pictures below for grand prize options! Cloth Diapering Again, The Inquisitive Mom, Our Piece of Earth, and Summer Baby Loving Blog Hop Giveaway participating bloggers are not responsible for prize fulfillment.
Post contains affiliate links.